Hello, and welcome to the blog!
I am excited to launch this forum for academic writers both seasoned and newbie to learn about what we at Editarians love: the big picture and fine detail of APA Style, the peccadillos of writing (in general, and in academic writing in particular), and the editing hacks we have amassed that will save you time, reduce your frustration, and lighten the load.
What do you mutter to yourself as you strive to get your thoughts organized for submission? I'll bet we'll have some advice to get you back on track in our coming blog entries.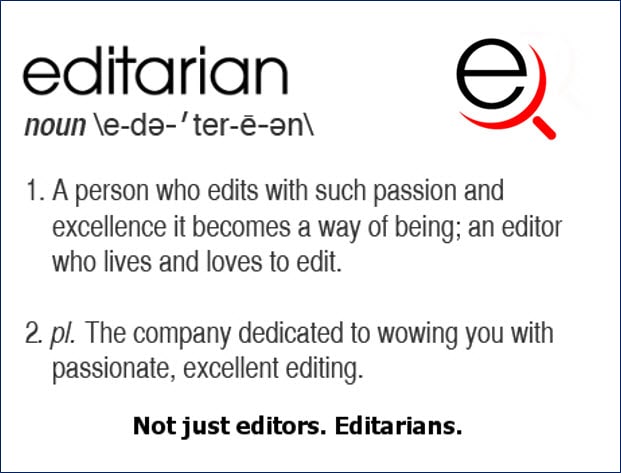 We're a team of professional editors specializing in APA Style and dedicated to perfecting clients' written work and wowing them in the process. What does this mean, exactly?
1. Team of professional editors
Editing is all we do. We've been doing it a long time. We know our stuff and we're on the lookout: grammar, mechanics, biased language, repetitive phrasing, poor construction—we see what you don't.
2. Specializing in APA Style
The bulk of the work we do is with papers, dissertations, and articles written in APA Style. We help with application essays. (We also do a fair amount of work in other styles, particularly journal house styles and Chicago style.)
3. Dedicated to perfecting clients' written work
We work to improve each client's submission, yes, but we also strive to improve the process by which we go about our edits. How can we make things faster and easier, for us and for clients? What can we do better to get even closer to perfection?
4. Wowing clients in the process
We aim to provide exceptional service. We want our clients to be overjoyed, both with the quality of our edits and with the care and communication they experience at each touch point of the process.
The 3 Big Bumps
Completing a paper, whether a 10-page article or a 200-page dissertation, requires a skill set that can be learned and improved. In the almost 16 years since I founded this company, I have noticed that our hundreds of clients routinely hit the same stumbling blocks.
I call them the 3 Big Bumps:
1. Writing concisely.
2. Applying APA Style uniformly.
3. Benefiting from the advanced features of word processors.
Good news: The 3 Big Bumps getting in the way of polishing your APA paper can be overcome, often quite easily. Our experts are here to arm you with the APA Style and academic writing knowledge you need to turn those mountains into molehills.
What Is APA Style?
APA Style is a set of guidelines created by the American Psychological Association, laid out in the Publication Manual of the American Psychological Association, for writers wishing to submit articles to its journals. Initially published as seven pages in 1929, the current version (the sixth) has grown to eight chapters and over 250 pages. It is the go-to guide for social scientists looking to improve their writing and publish their work.
I want to stress that you should also know what APA Style isn't. Let me share two pervasive myths:
Myth 1: APA Style is a referencing system.
Nope! It's a complete style guide. If you think of APA Style only as a means of getting your references and citations in order, you're overlooking six out of eight chapters of the Publication Manual.
Myth 2: APA Style was created for university students to submit papers.
No again! Although many institutions across North America have adopted APA Style for student work, the manual is geared to researchers who want to publish articles in the behavioural and social sciences. Institutions often have additional guidelines, which trump the Publication Manual, to address exceptions. Graduate students must be aware of these exceptions (and we can help you with them).
I like to think of APA Style as a platform, one created to enable researchers to disseminate their work as carefully and as concisely as possible. As an academic, you have important ideas to share. The data you have gathered could positively influence many lives—isn't that part of what inspired you to conduct your research in the first place?
Our passion is to help you get up onto that platform, giving you the stage you need to be able to shout your findings to the world.
Good news: The 3 Big Bumps getting in the way of polishing your APA paper can be overcome, often quite easily. Click To Tweet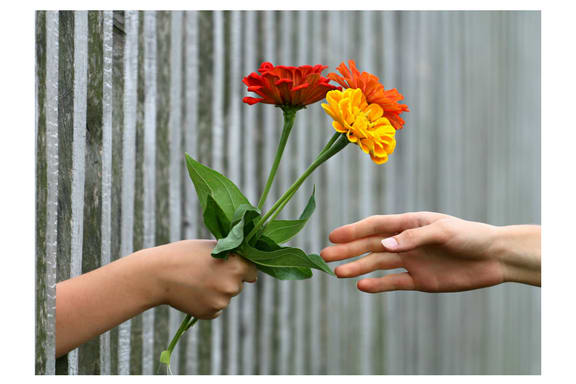 With this blog, we hope to provide insight and motivation to help you write your papers more easily, more accurately, and more confidently. In addition, we'll share tips on everything from creating a system for collecting references, to overcoming procrastination, to remembering grammar rules.
Having a space to answer client questions and share our knowledge has been on our internal radar for some time. Take advantage!
Subscribe below and let our feed nourish your inner perfectionist.
Send us your questions and frustrations. Our team is here to answer and alleviate.
We look forward to hearing from you.